Reputation Management
The only reputation management platform built exclusively for senior care
Your online reputation matters, in fact each review could be worth $54,254.* Take control by monitoring, responding, and promoting your best reviews to prospective families.
* Caring.com, Reviews Influence Case Study: Value of a Senior Living Review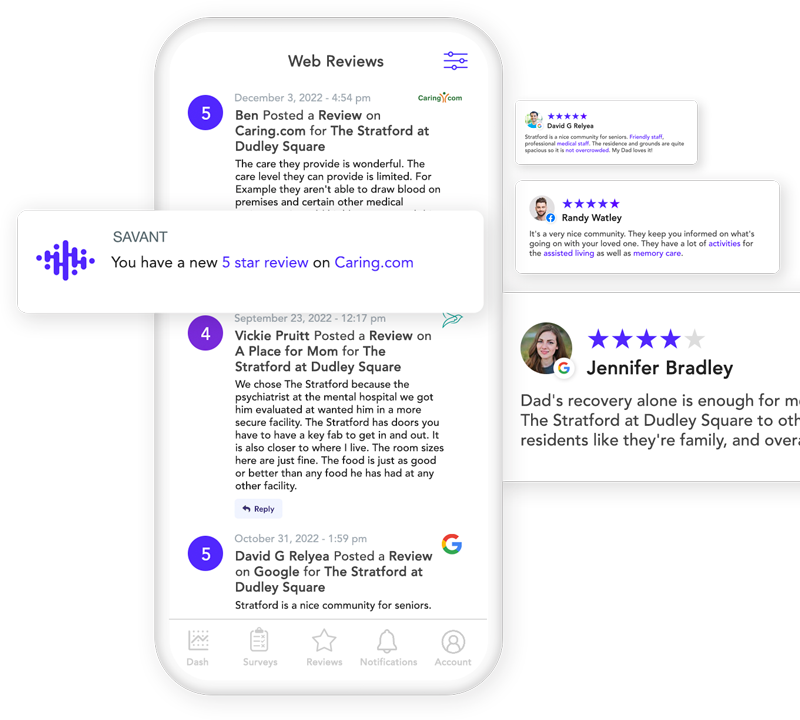 Monitoring & Alerts
Stay ahead with online review tracking and alerts
Your Reviews Aren't Important, They're Critical
More consumers are reading online reviews than ever before. Even more important for senior care providers, 83% of individuals surveyed said care services is a business type for which reviews play an important role in their decisions, according to Brightlocal's Consumer Review Study.

Enterprise-Grade Reporting
Whether you have one location or hundreds, easily monitor all of your reviews in a single centralized dashboard

Take Immediate Action
With SAVANT review alerts, your frontline staff can take immediate action to resolve issues and build loyalty, regionals and upper management can set review alerts for low star ratings so they can intervene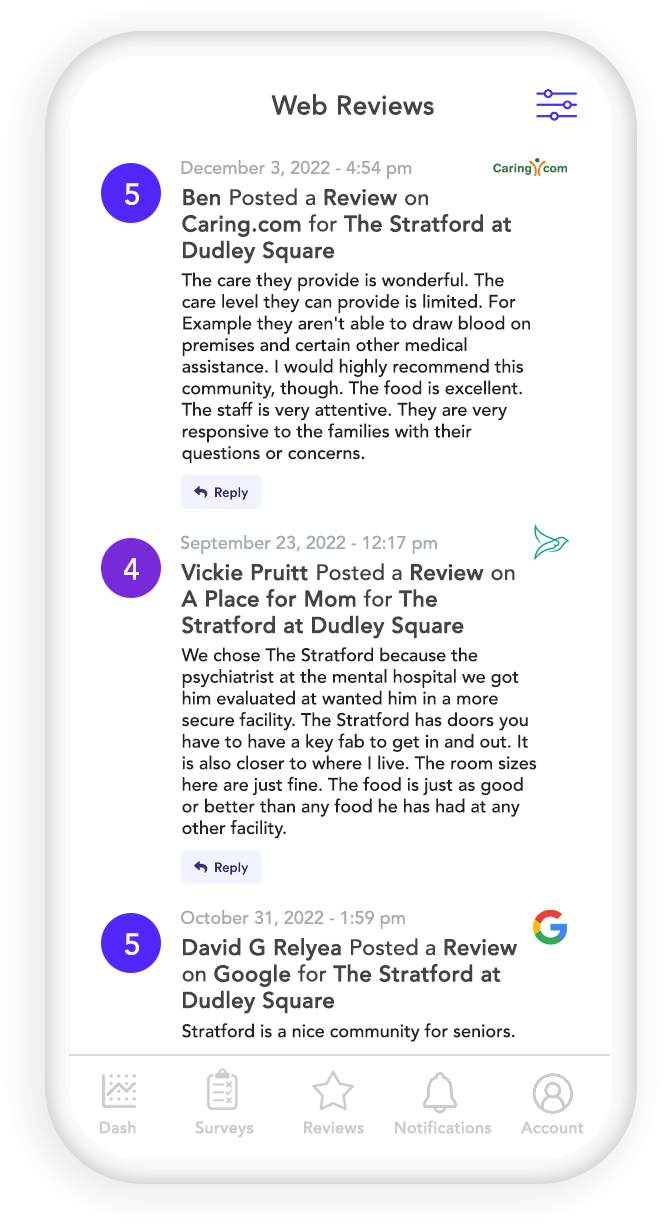 Respond & Request
Build loyalty by responding. Drive more leads with fresh reviews
89% of consumers are 'highly' or 'fairly' likely to use a business that responds to all of its online reviews.*
Even negative reviews can have a positive effect if they are resolved promptly and in a positive way. Taking action builds trust and loyalty. Perhaps the worst thing a business can do is not respond to a review to show the customer you are listening.
57% say they would be 'not very' or 'not at all' likely to use a business that doesn't respond to reviews at all.*
Respond quickly and easily with all of your reviews in one platform, 1 location or 100's, all reviews in 1 place
*BrightLocal, Local Consumer Review Survey 2022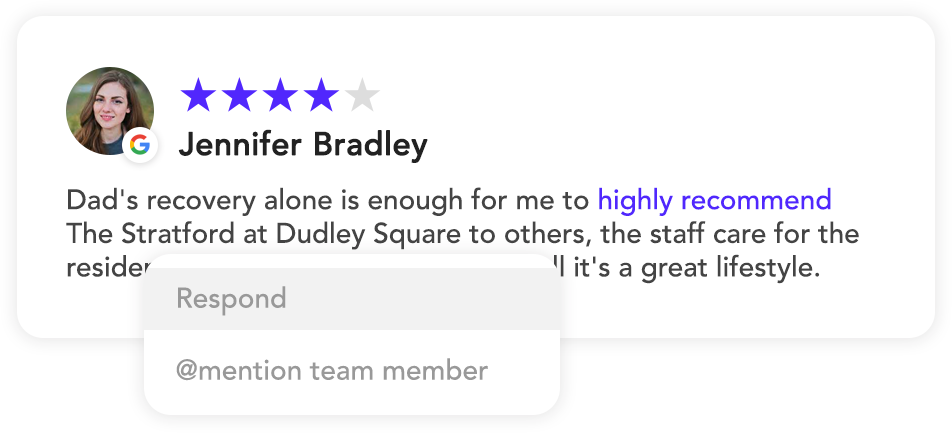 Reporting & Analytics
Turn Reviews into Actionable Insights
As a senior care provider, it's important to understand the needs and preferences of your customers. SAVANT analytics and sentiment analysis can provide valuable insights into the experiences of your residents and their families, helping you make informed decisions and improve your services. By analyzing online reviews, you can identify areas of strength and weakness in your care offerings, as well as monitor trends and feedback over time. This information can then be used to make data-driven improvements, enhance your reputation, and increase customer satisfaction.
Control your reputation
Take action on new reviews with customizable review alerts. Mitigate risks and resolve issues by responding to all of your reviews in one centralized platform.

Enterprise-grade analytics
Measure review volume, sentiment, average response rate, and average response time. Compare performance across all of your locations and easily slice and dice your data to identify your highest and lowest performers.

All surveys and reviews in one platform
Have all of your experience data in the palm of your hand by combining SAVANT's Live Call Phone and text surveys with your reviews from all of the major senior care review sites.

Build loyalty in competitive markets
Prioritize issues and @mention team members to create action plans. Team members, from frontline to the C-suite, can get @mention alerts and comment on each review to resolve issues and build loyalty.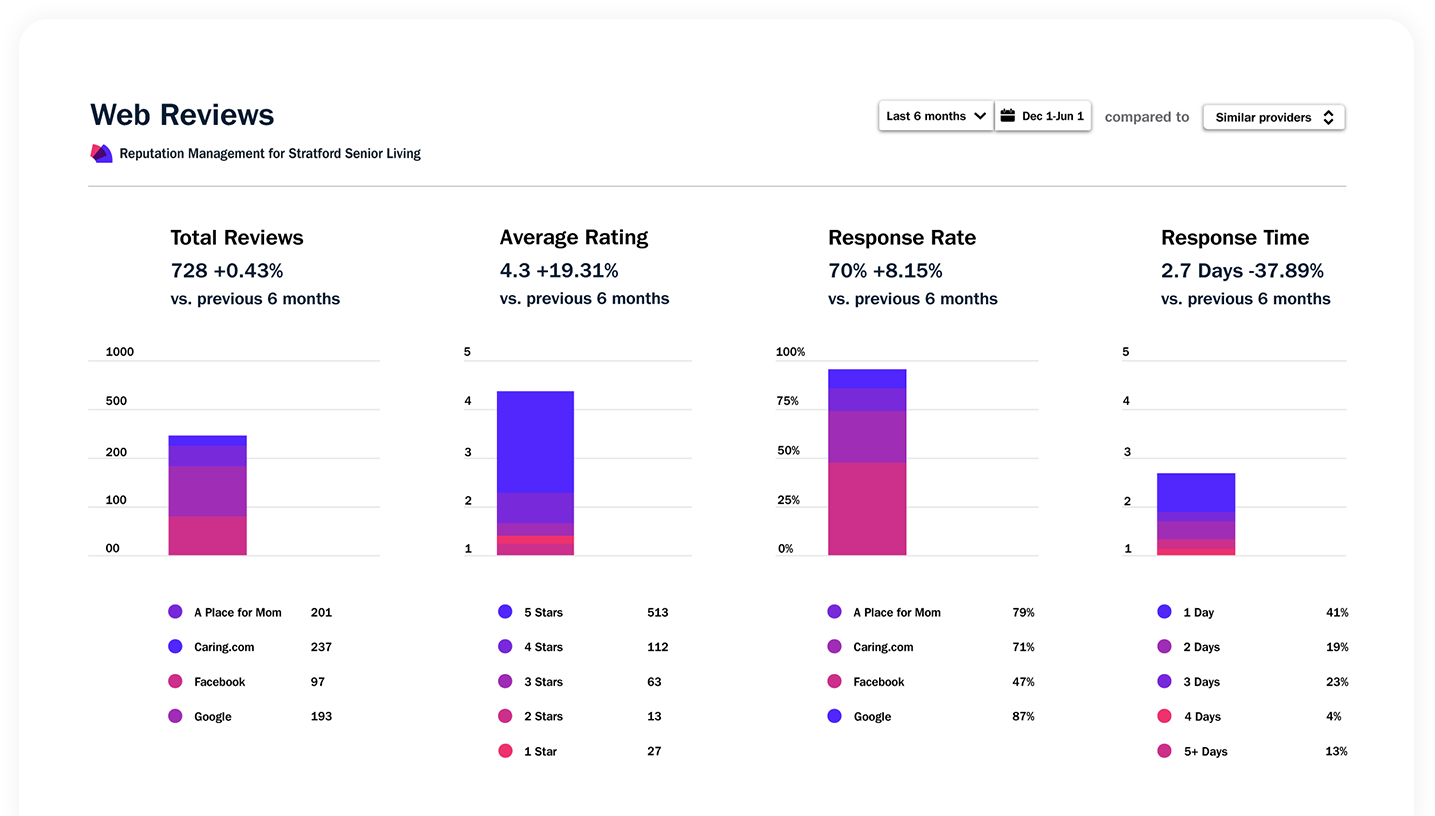 Intelligent Insights
Easily Identify Trends and Take Action
SAVANT AI is the only deep learning AI of its kind, built and trained exclusively for the senior care industry. With Savant AI, you'll receive automatic insights to help identify critical areas within your locations operations that need improvement, as well as areas of satisfaction to celebrate.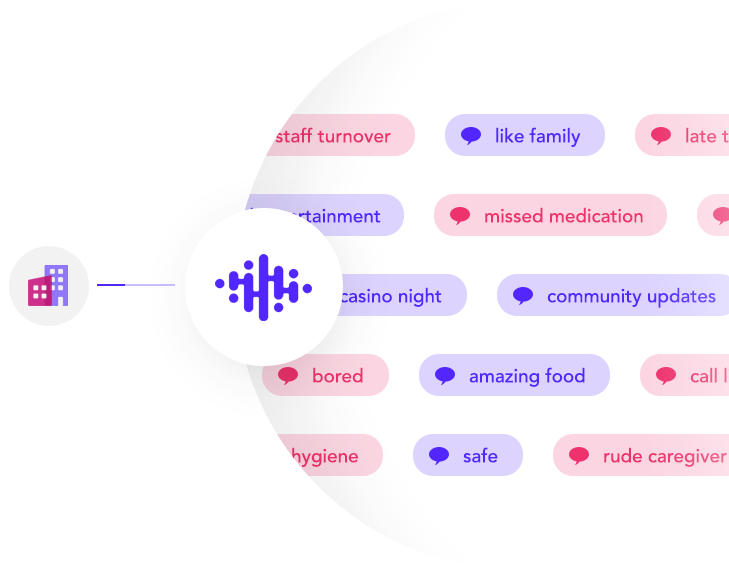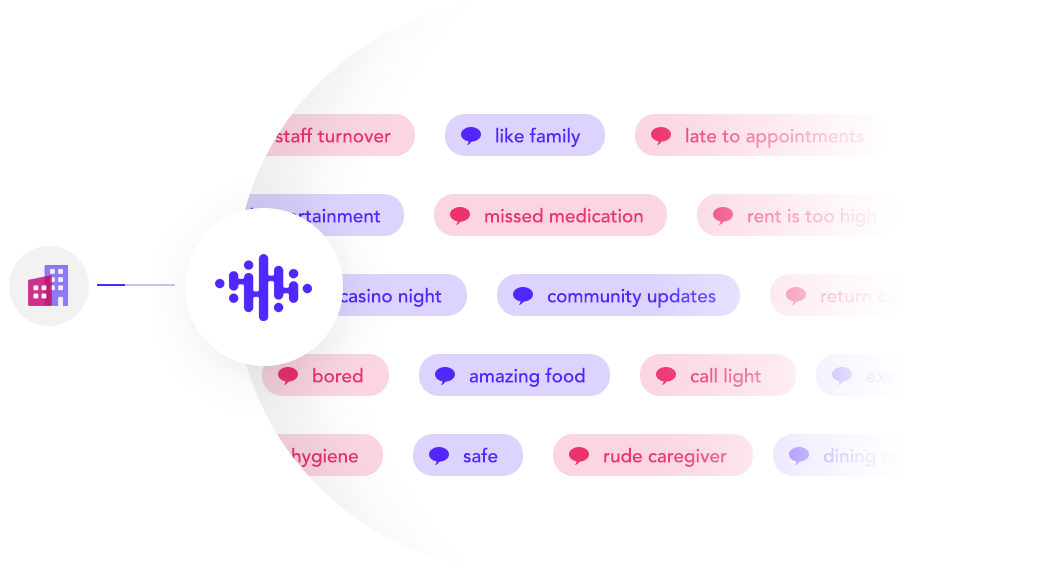 Ready to get started?
Drive more leads and build a better reputation with SAVANT. Request a demo today or ask us a question, we'd love to hear from you!

Experience Management
Maximize the experiences you deliver by monitoring and taking action on context-rich feedback, all in real-time.

Conversions
It's a little too early for chatter about SAVANT Conversions, but something awesome is coming soon!
Coming Soon!
SAVANT Virtual Assistant
Click here for help!